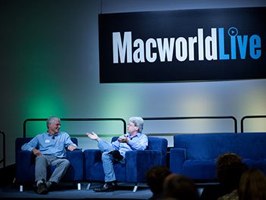 So, I went to MacWorld Expo yesterday. I had registered a year early when they gave out a free pass to those who attended 2010. I was nervous because I did not get my pass in the mail, so I sent out an email to the organizers of the show and they said I had to pick up the badge at the show. So, it's no biggie. I showed up at the show and found that they did not have my name registered. Of course I didn't bring any paperwork with me because they said it's all a done deal.
I asked one of supervisor and he said without document, he can not do anything and I would have to pay $45 to get in. I told him would he let me in if I showed him the email from the organizer. He said yes.
So, I am thinking how am I going to get my email, which is sitting on my iMac at home? Simple, I used my iPhone and logmein to get to my computer at home. Logmein is a service that allows you to access your computer from anywhere. You just install a small program on your computer and you can control it from any device, whether computer or smart phone.
The connection was slow but I was able to get the screen of my iMac on my iPhone and showed him the email. He then let me register with a special code that got me in for free. That alone paid for my logmein app many times over. I am such a geek.